At the end of April, Village began offering an exciting new way to get fresh produce into our customers' homes: the Fresh Essentials Box! We partnered with Gargiulo Produce to assemble a box of pre-selected items at a fixed price. This way, our customers can get the most popular fruits and veggies in the safest, simplest way at a great price, and it contains enough produce to last most families one week. Customers of our SRFH stores can order through our website or from the Deli & More app, and can choose to pick up the box or have it delivered to their home via DoorDash. A big shoutout goes to Craig Lutcza and Joe Kurtz for developing this great program.
The produce box was a big hit with our customers, garnering a lot of attention on social media. In fact, it was so popular that we expanded the program to include a Cleaning Essentials Box and the Village Family Meals Box.
Starting this Saturday, our SRFH stores will offer the Cleaning Essentials Box which contains some hard-to-find items that are difficult to keep in stock, such as disinfectant spray and wipes, among other basic supplies such as gloves and paper towels. This again provides our customers with safe and convenient options to protect their families, using the same pick-up or delivery methods as the produce box.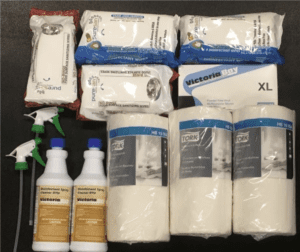 We're also piloting our Village Family Meals Box in a few stores; this program offers fully cooked, heat-and-serve meals for a family of four, providing quality meals without the prep work. Our customers can order any combination of these seven meals through the Deli & More website or app.

The Produce Essentials Box, Cleaning Essentials Box, and Family Meals Box are conveniently available in the catering section of ShopRite.com under "Boxed Essentials".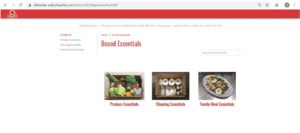 We're thrilled to be rolling out these innovative programs, and we expect them to be a big hit! We'll keep you informed of all the new and innovative programs we roll out, and we hope you can be proud of a company that's always finding creative solutions to fit our customers' needs.