We had so many fun costumes throughout our stores for Halloween –
It wasn't easy choosing the finalists! Our Village voted the team members
below as our individual and group contest winners for 2022!
Our individual costume winner is Ashley Grabowski,
a super cute scary-crow from Store 443, Stirling ShopRite.
Great make up Ashley, thanks for joining in the fun!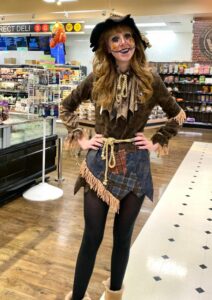 Waleska Rockwell, Cheryl Koreivo & Madeline Shallop from Store 447,
Hillsborough ShopRite are looking great!
Our group costume winners – the 'hocus pocus" group…