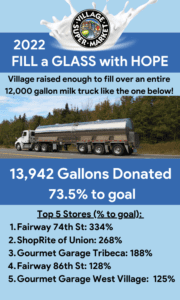 The Fill a Glass with Hope campaign has officially ended for 2022 and we reached 73.5% of our target goal! Our food bank partners will be getting over 13,942 gallons of milk, courtesy of our generous customers and your efforts.  To visualize just how much  milk that is, one of those large super tankers you see on the highway holds 12,000 gallons, so we filled one of those and then some!
Hats off to the the nine stores who surpassed their 2022 goals! We know this year was uniquely challenging but we know you brought the message to our customers with a smile.
1.Fairway of 74th St.
2.ShopRite of Union
3.Tribeca Gourmet Garage
4.Fairway of 86th St.
5.West Village Gourmet Garage
6.ShopRite of Garwood
7.Fairway of Pelham
8.ShopRite of Hillsborough
9.ShopRite of English Creek
Thank you for everything that you do — your actions have a bigger impact on our communities than you realize! The milk drive is a great example of how we care deeply about people, help them to eat well and be happy.